June 8, 2004 still remains deeply imbedded in my mind. Not because I had turned 30 two days beforehand or that I would become a non-commissioned officer after surviving my first promotion board. On that early Iraqi morning outside of our base on the outskirts of Baqubah, a massive car bomb exploded at the front entrance. Even a half mile away from the gate the explosion was so loud that those of us who had long experience with mortar and rocket attacks hit the ground.
Captain Humayun Khan did not drop to the ground. He was not supposed to be at the gate that day because it was a day off from that thankless but integral duty. But Captain Khan wanted to make sure everything was set up for success. A friend of mine was also there and he saw the suspicious sedan pulling toward the gate. Captain Kahn saw it too and he stopped the enlisted soldiers from approaching it. Instead, he met the sedan before it pulled into the compound. It exploded. He died. No one else did. He saved them all with his simple act of merely walking forward and causing the suicide bomber to pre-detonate. The sedan was so laden with explosives a piece of the engine landed hundreds of yards away. He took the brunt of the blast.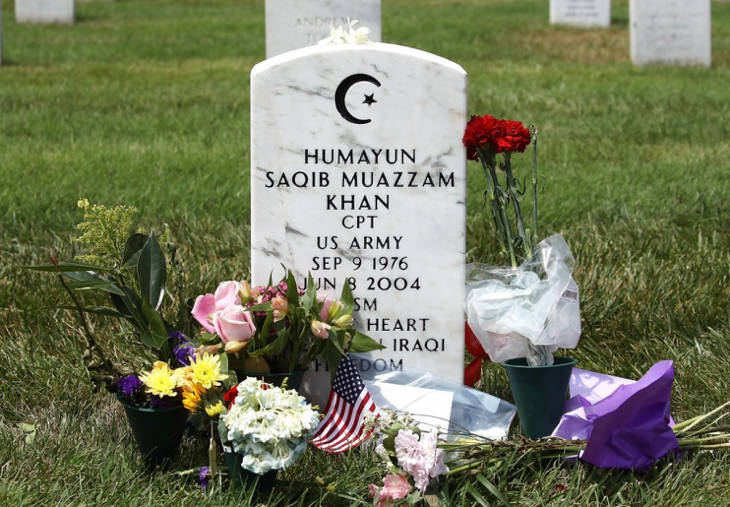 I do not know what Donald J. Trump, now our president, was doing that day. I know his reality show "The Apprentice" had just finished its first year on television and he was probably counting the profits from that and reveling in his rekindled fame. A couple months later he wrote an first-person, narcissistic piece about how great he is and how he would "Run the Country (Better)." Regarding the Iraq War, he wrote:
"What was the purpose of this whole thing? Hundreds and hundreds of young people killed. And what about the people coming back with no arms and legs? Not to mention the other side. All those Iraqi kids who've been blown to pieces. And it turns out that all of the reasons for the war were blatantly wrong. All this for nothing!"
His criticisms for the strategic purpose of the Iraq War I share though Trump, then a private citizen, was much more subdued before and during the initial phases of it. While we were in combat, we held to the mantra that we could not fail because to do so would make the deaths and wounds of so many soldiers, airmen, marines, and sailors mean nothing. For us, in the thick of it or back home at base, it is not about the mission or targets but rather about the man and woman next to you. It is about making sure they are safe and we all stay part of a unit.
Trump did not understand this then and he does not now. This became obvious when I was eating dinner one night in late July 2016 and suddenly heard Captain Kahn's father, Khizr, come over the radio. At the Democratic National Convention, he spoke publicly to millions about the sacrifices of his son, his path to America as an immigrant, and the importance of the Constitution. Within a week, Trump and his proxies attacked Mr. Khan in the most vicious manner yet no one mentioned his son's service or honor. At the same time, Trump would surround himself with veterans and talk about his patriotism and love for the military. But it was only those chosen segments of the military he loved - the ones who offered him unquestioned adulation.
It was at this time I joined a group called Common Defense and I found a group of veterans with similar experiences who showcased how Trump was using our brothers and sisters as props to sell his snake oil campaign. For an entire fall campaign cycle, Trump would appear on stage with American Legion and Veteran of Foreign War members or take a Purple Heart but also mock people who served for having Post-Traumatic Stress Disorder, being captured in Vietnam, or falsifying his donations to veterans groups.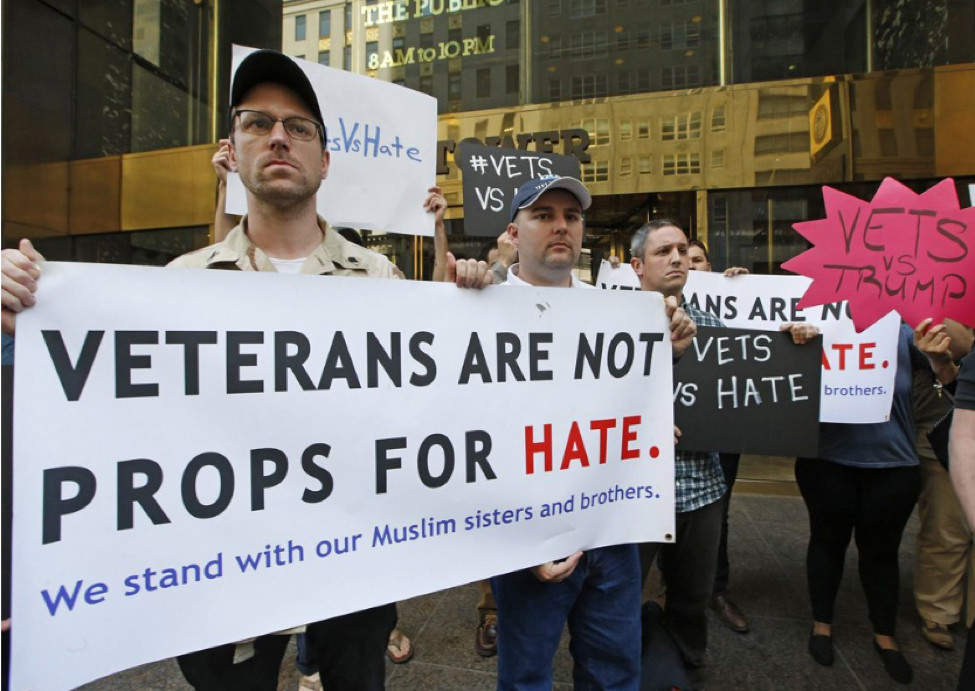 We were a means to his end. He used my and so many others' service to vault himself into the White House. He stole our valor and used our bravery like so many authoritarians have done throughout history. He used his spotlight and wrapped himself in the flag to achieve power. I have much the same regret that we were unable to prevent his presidency that I share for the deaths of my comrades in arms. However, unlike Trump, I do not feel it was it was for nothing.
This makes it hard to watch the nation's commander-in-chief continue to use the military and veterans as a toy. Trump has upped his rhetoric with another authoritarian leader and has brought us dangerously close to a massive land war on the Korean Peninsula again. He has openly talked about having full-display military parades as if we live in North Korea or the Soviet Union. When visiting military bases or veterans groups, Trump talks about his poll numbers and election wins. He uses those crowds as flair for his perceived greatness.
Most recently he and his allies have exploited our service to minimize athletes drawing attention to the different meanings our national anthem gives them. Some feel the courage to take a knee or join arms in front of these massive crowd while others continue to stand at attention for the anthem. I am in solidarity with those who kneel and feel no slight toward those who continue to stand. Our stories relating to how we relate to our nation are complex but they should not be distilled to something as inane as a song or a flag. It is how we respect and cooperate with one another that makes us a unit worthy of global admiration.
Trump and his team seek to divide us. Veterans are certainly not a monolithic group nor should we be the ultimate referee for any matter of national concern. However, we do not take the language and actions of division lightly. We hold ourselves to core values and expect others to act in-kind. Trump and many of those around him do not fulfill most of the values we hold dear. Trump expects that using us to whitewash his hate and ignorance will continue to bring him success. More and more people are seeing the light and I, for one, will not stop until the bitter end. It is the debt I have owed since June 8, 2004: that our sacrifices not end in vain and Trump not manipulate us for his own vanity.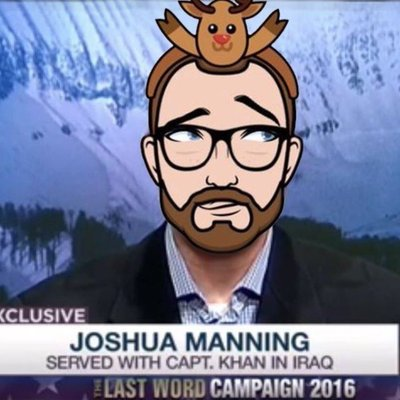 Contributing Editor: Josh Manning
Josh Manning is a former U.S. Army Intelligence Analyst, combat veteran, and spent several years as a counterterrorism analyst at the Defense Intelligence Agency. He currently lives in Montana and works as a civil rights investigator for the state. He also serves on the leadership team of Common Defense, a group of progressive veterans joining together to affect political change. You can follow him on Twitter @joshuamanning23