We seem to be running out of Donald Trump jokes and I'm not so sure that's a bad thing. I've heard all the one-liners, read the essays and watched the impersonations. And tonight, I gave it a good shot. But, the truth is, I've been scratching my head trying to think of an opening line to an open wound. I never thought I'd be nostalgic for the days when Donald Trump was nothing but an ineffectual gasbag whose sole purpose for existing was to remind me of how much I like Rosie O'Donnell - or why Larry King seemed so fascinated by a man wearing an omelette tam o' shanter on his head.
The Oxford Dictionary defines National Security as "the safety of a nation against threats such as terrorism, war, or espionage." Protecting the state and its citizens against harm of any kind is a hallmark of the American government. As American citizens, our fundamental right is to be protected by our own government, not to feel threatened by it and certainly not to fear it.
All that changed on November 8th, 2016.
Most of us thought – no, assumed – that when we woke up on November 9, 2016, we would be looking into the poised and confident face of the first female president. We stepped up! The powerful Hillary Clinton, a lifelong civil servant, politician, wife, mother and former First Lady seemed to embody all the glorious elements of a modern leader. Instead, we arose to the sinister smirk of her opponent, the "dark horse," and all we heard were our hearts drop over the deafening mic drop.
Even on my most insecure days of bloat and the Delong Star Ruby growing on my chin, I've never projected the meekness that our President seems to base his politics on. With the election of Donald J. Trump to our highest political office, we experienced a seismic ideological shift. Instead of focusing on what a true democracy means and our national security, we were forced to grapple with his insane, blatantly obvious, gender insecurity. An egomaniac with no political experience, questionable business ethics, and a crude moral compass, had been charged with running our big, beautiful, diverse, country. The political landscape had forever been changed.
A battle of wills
Almost immediately after the election results were in (and the shock sort of wore off), the anger became palpable. Fighting back with marches, rallies and town hall meetings, with hashtags like, "#notmypresident and later, #resist, it became abundantly clear that a large portion of the population was not going to take the new President's agenda lying down. And emerging as the most vocal opponents, the most dedicated #resisters - WOMEN.
On January 21, with our powerful hearts and pussies, we began the fight, marching in protest in the streets of Washington D.C. in record numbers. Every single state in the country represented the movement, holding at least one march on the same day, to the tune of four million participants, nationwide. Globally, the support for the women's movement surged – London, Paris, Athens, Lisbon, Berlin – all took to the streets in solidarity. We grabbed back.
Can't stop, won't stop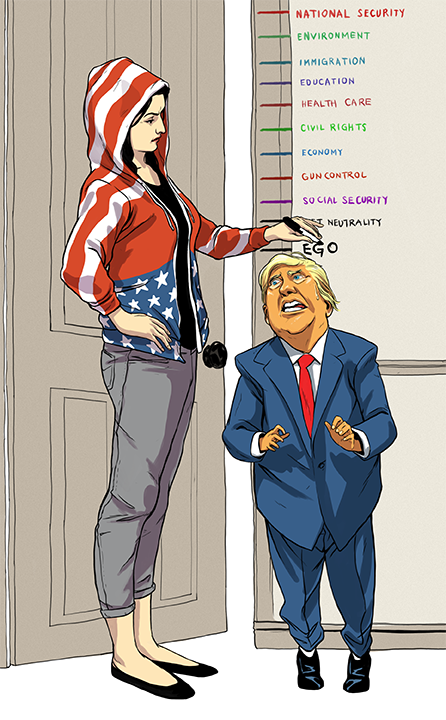 Some of our government's female representatives - Senators Elizabeth Warren and Kamala Harris, Congresswomen Maxine Waters and Nancy Pelosi - have been the most vocal and staunch opponents of Trump, working tirelessly to expose his shortcomings, civil injustices and incompetencies. And their fight is inspiring others. Since the election, the number of civilian women who have been motivated to run for political office in their local districts has spiked across the country. Groups like She Should Run, Emerge America and CAWP's (Center for American Women and Politics) Ready to Run program – which prepares potential female candidates for their bid – have seen an exponential growth in inquiries and submissions.
We have perhaps (re)realized the power of our collective voices and awakened a sleeping, feminist giant. She's smart. She's beautiful. She's strong. She's pissed. Later this week, women will make another statement during the planned strike, "A Day Without a Woman." Scheduled for March 8, also International Women's Day, the protest recalls the efforts made on that same day in 1908 when thousands of women protested against the unfair labor practices of the NYC garment industry. According to the Women's March website, "women and our allies will act together for equity, justice and the human rights of women and all gender-oppressed people through a one-day demonstration of economic solidarity." March is also Women's History Month, which this year, is dedicated to trailblazers in labor and business.
As women, we are used to (largely under-valued) hard work and little recognition. We're used to screaming to only be heard in a whisper. Now is our time to shine as leaders as we struggle for advancement, progress, and most importantly, equal rights. Under the glare of this new administration, these issues have taken on a more complicated, third dimension. The threat of our advancements are in jeopardy because of President Trump's very small hands and an even smaller regard for facts and truths.
We refuse to move backwards.
Trump has proven that he really can't take the heat in the White House kitchen. But, he won't get out of it, either. His ego won't let him. Removing him will be up to us. Despite the crushing, life-altering blow we suffered on November 8th, women are organizing the resistance. On a deep cellular level we all know what is right, fair and just. We recognize that strength is in our unity, diversity, compassion and humanity. Feminine power is boundless. Women can change the world. We already have... and we're not giving up now.
The march goes on.
Featured in Marie Claire by Alyssa Milano
​​