On Saturday, the United States and the world witnessed the latest consequence of Donald Trump inspired hatred in America. Self-proclaimed "alt-right" white supremacists descended on the small college town of Charlottesville, Va. to protest the removal of a statue of Civil War general Robert E. Lee. Following a morning of clashes and violence at the Unite the Right event, a vicious automobile attack sent 19 people to local hospitals and left 32-year-old Heather Hyer dead.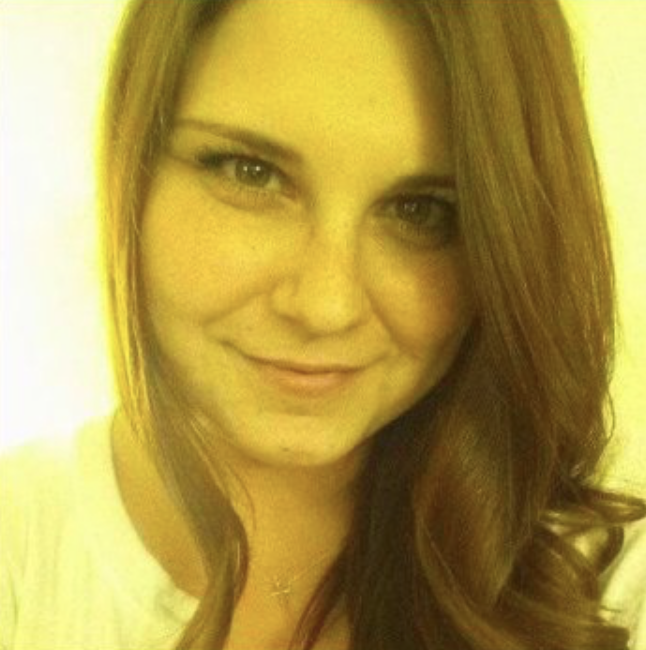 Heather Hyer was a victim of neo-Nazi hate prospering under Donald Trump. Police arrested a 20-year-old man on Saturday evening and charged him with murder and other crimes stemming from allegedly ramming a crowd of counter-protesters with his car. The latest incident of domestic terrorism demonstrates once again that Trump's bans, anti-immigrant policies, and minority fear mongering are simply products of his own demented "fake news" feed. The man arrested for mowing down unarmed men and women did not come from a banned nation or enter America illegally, and he does not have a gun or brown skin. He is from Ohio.
Charlottesville Mayor Michael Signer, who is white and a democrat, condemned the violence and blamed Trump for inflaming racial prejudices. As national leaders of every color and political affiliation raised their voices to denounce racism and the white nationalist rally, one American remained ambivalent to Saturday's activities - Donald Trump.
Speaking from his private club in New Jersey, Trump refused to - as he has since he announced a campaign widely supported by white nationalists - condemn the racist and fascist-leaning groups responsible for Saturday's violence. Even as noted Ku Klux Klansman David Duke insisted that Unite the Right protesters were "going to fulfill the promises of Donald Trump," Trump shamefully attempted to mitigate the impact of hate groups and his own culpability.
In a brief statement, Trump suggested that the hatred promoted by white supremacy groups is spread equally across the socio-political and ethnic spectrums. Contrary to Trump's intimation, neo-Nazis, Klansmen, and fascists directly organized the rally in Charlottesville and fanned the flames of racism and bigotry. By declining to speak against the antagonists and distance his office from those who adore and hold him in high regard, Trump essentially condoned their activity and acquiesced to his role of figurehead.
His silence emboldens the alt-right and Trump's many racist factions, and their numbers are growing. According to the Southern Poverty Law Center, 2016 was a banner year for hate groups in America. Trump's "Make America Great Again" campaign bombarded Americans with messages of fear and energized racist neo-Nazi offshoots and others. In addition to tracking the organizations responsible for spreading hate, the SPLC also documents hate crimes and noted a spike in the first ten days after Nov. 8, 2016 as well as an increased atmosphere of intimidation in the nation's schools.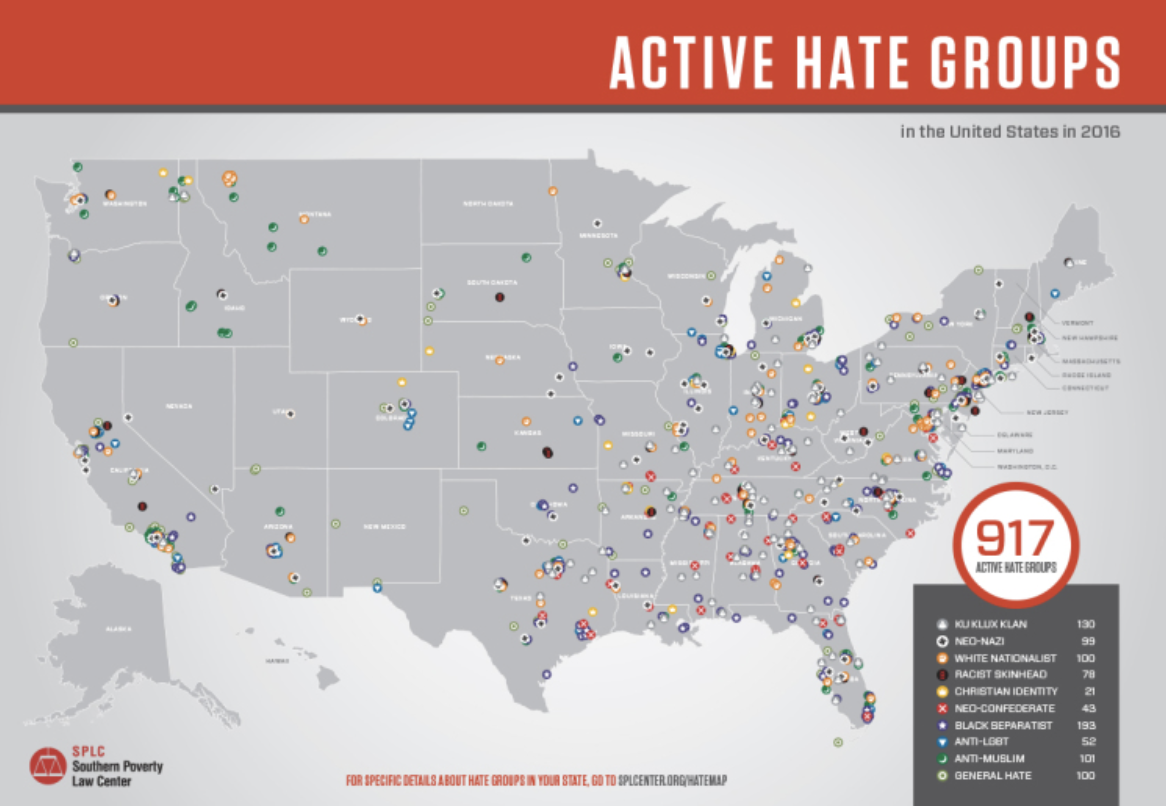 Hate groups in America. Courtesy Southern Poverty Law Center.
David Duke's contention that hate groups are fulfilling the will of Donald Trump resonates throughout the white nationalist community. Late Saturday, the popular white supremacist website Daily Stormer - publishing statements that echoed Trump's personally unique syntax and style - called Trump's comments, "Really, really good." They also noted how Trump refused to condemn them. "No condemnation at all. When asked to condemn, he just walked out of the room."
Both sides heard Trump's message to America with acute clarity, and today across the nation, the divide widens. Under Trump's regime, white nationalists are pursuing an agenda that mimics what they see in Washington, D.C. and the White House: a return to pre-civil rights era values and segregated America.
In the wake of domestic terrorism incidents over the past few months, Trump's silence has earned him a troubling reputation. In cases of white on non-white hate crimes - like the recent Minnesota mosque bombing and February's shooting of two Indians in a Kansas bar - Trump refused to make a statement, offer condolences on Twitter, or even acknowledge that they occurred.
As tensions rise internationally and domestically, America has entered a modern dark age under Trump's bigoted views and policies. While white nationalists plan more rallies and spread Trump's messages of hate, intolerance, and xenophobic views, America's majority must speak up. Almost a century ago, the world remained silent while another fascist minded lunatic unleashed chaos on Germany. By the time anyone spoke out, he had murdered millions and nearly destroyed Europe.
Donald Trump, who once admitted to keeping Hitler's speeches by his bedside, may like silence more than just when he is reading. He relies on it, and will shout down those who oppose him - the same way neo-Nazi thugs do in the streets. Yesterday an American's voice was silenced, but millions more can send a message to Trump and his racist supporters. Today, everyone say something extra for Heather Hyer...because our nation's leader forgot to.
Contributing Editor: E. Rathgeber
E. Rathgeber is a reclusive freelance writer who is passionate about using his creative style to speak up about civil, political, and human rights. He has ten years of legal experience and calls himself a Democrat
ist
to distinguish himself as someone who does not support the party, but the ideals of democracy. His political blogs and anti-Trump insights appear @
IdeaDogs
on Twitter and
Idea-Dogs.com
.