I first stepped into politics as a concerned citizen in February 2013 when I was nearly 30-years-old. I argued before the Phoenix City Council to support an Anti-Discrimination measure to include protections for members of the LGBT and disability communities in city contracts, housing, employment and public accommodations.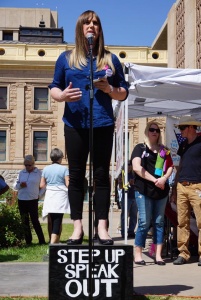 Two months later I argued against AZ Senate Bill 1432, aimed at prosecuting transgender people for not using the public restroom matching the gender they were assigned at birth. I opposed the bill because it was discriminatory; I understood its ramifications because, in the fall of 1984, I was born a boy.
My parents dropped out of high school when I was born, and both abused drugs so that they couldn't care for themselves, much less a child. Through the years, they rode the roller-coaster through episodes of sobriety and relapse. At one point we were homeless and picked through trash cans for food.
Eventually, I went to live with my great-grandparents for two years on an apple orchard they managed in Washington State. Helping my great-grandparents tend to the apple trees taught me right from wrong and the value of hard work. I look back on those as the best two years of my life.
I continued to use the tools I'd learned from my great-grandparents, including my conviction to always work my hardest. I had learned that even though my hard work may not get me where I wanted to be, sitting around eating apples certainly wouldn't get me anywhere! andparentsWashington.jpg">
andparentsWashington-300x225.jpg" alt="" width="300" height="225" />
At 15, I moved into my best friend's house, where I stayed to myself, and kept my eyes on the prize: high school graduation. To most seniors, graduation meant 'celebration!' For me, graduating from high school didn't mean I had done everything; it showed me I could do anything.
That summer I married my girlfriend, and we welcomed our daughter into the world. When I held our baby close, I finally felt connected to something higher than myself. I promised to provide a better life for our daughter than my parents had been able to provide for me.
For the next three years, I worked in physically demanding jobs laying asphalt and replacing railroad ties. When my mother relapsed again, my wife and I sought custody of my siblings.
and-I.jpg">
and-I-300x225.jpg" alt="" width="300" height="225" />With four kids, we relocated to sunny Arizona to be near extended family, where I was inspired to put on a necktie and try something new. I walked into a Peoria car dealership, asked for a job, and was hired on the spot. Eleven years later, I'm proud to say that I still work at the same dealership, but I am not the same person.
When I was 25 my marriage ended, and I began to realize that throughout my chaotic life, I had suppressed a part of me that was difficult to understand – the 'me' who didn't feel as masculine as I appeared. After two years of soul-searching, I finally knew who I was, and I took the next steps toward my new beginning.
I gathered my courage and explained to my family, friends, and colleagues what it meant to be 'transgender.' Fortunately, I was greeted with support and understanding, and I started taking hormone replacement therapy in 2011 to begin the gender reassignment process.
I documented my entire transition and shared it on YouTube to inspire and educate others. My channel reached over 6,000 subscribers, with over a million views.


In completing my reassignment process, I found my authentic voice – the voice of Brianna Westbrook, the burgeoning politician. I began to speak about discrimination against the LGBT and other targeted communities.
I was expressing my anger at the decline of our nation when a friend quipped, "Relax, there's nothing you can do about it," to which I countered, "Why not?" I began to act as Brianna Westbrook, the Congressional candidate for Representative of District 8 where I live, which covers almost 10,000 beautiful miles north and west of Phoenix.
My campaign is powered by the heart, elbow grease, talents and donations of supporters nationwide who share my commitment to social, economic and environmental reform. United, our vision is to reinforce America's infrastructure - her working-class - by fighting for Medicare for All, a livable wage, and quality public education. I vow to support DREAMers along with all Americans who welcome diversity and to defend women's access to comprehensive healthcare and the right to make personal health care decisions. I'll respectfully decline contribution offers from lobbyists and corporate PACs as my votes and my support will reflect the interests of my constituents, not the highest bidder.
As a Representative, I will meet with my constituents, network with my colleagues and conduct an office which bring honesty and integrity back into Arizona politics, because I'm here to demonstrate what I can give to our country, not what I can take.
Brianna Westbrook
U.S. House Candidate
Arizona's Eighth Congressional District
Contributing Editor: Brianna Westbrook
As a courageous leader and Democratic U.S. House Candidate for Arizona's 8th District, Brianna Westbrook fights for social and economic justice and environmental preservation, as she works to return America to a nation of equal opportunities for all.