A picture is worth a thousand words. This time – the picture represented the 36,231 Americans who died from or were affected by gun violence from Jan. 1 through Aug. 15 of this year alone.1
Over the last few weeks, dotted artwork of right-wing Sen. Ted Cruz popped up around public places in Houston, San Antonio, and Austin, Texas, catching the attention of Texans across the political spectrum. The posters seemed to be a positive reflection of Sen. Cruz.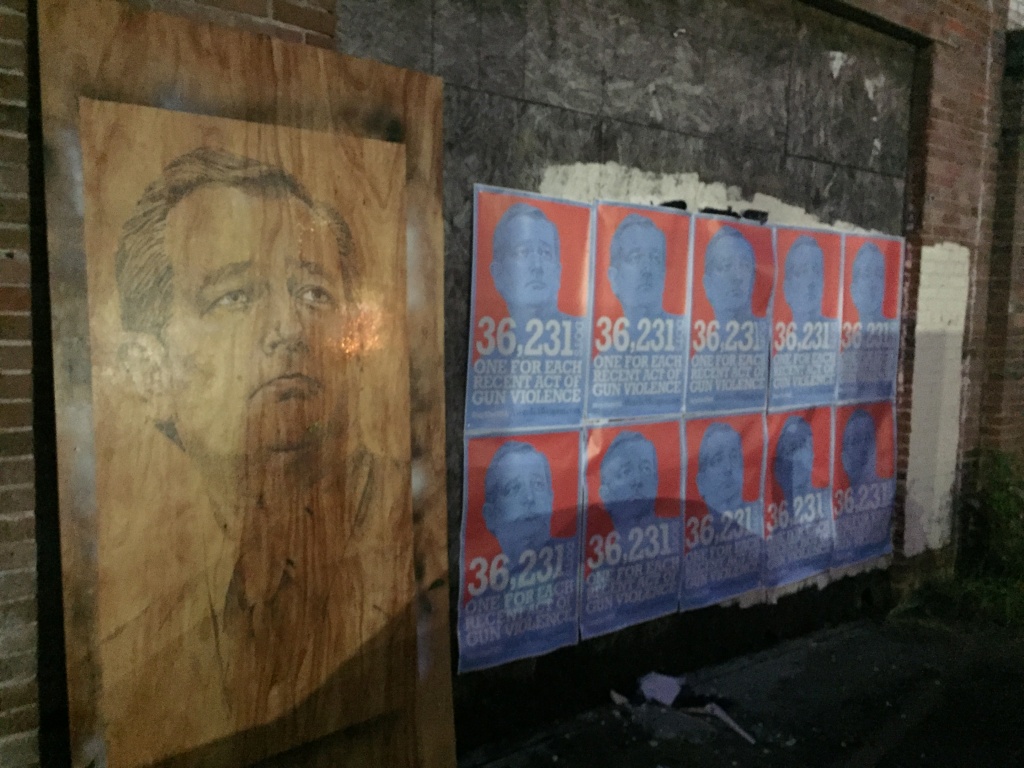 That was, until early Monday night, when all of the images across the state were modified to reveal their true meaning: each dot comprising Sen. Cruz' image represented one act of gun violence in the United States during the first 8.5 months of 2018.
Why focus on Sen. Cruz? For far too long, Sen. Cruz has been taking his marching orders from the National Rifle Association (NRA) instead of listening to his constituents – offering little more than "thoughts and prayers" after mass shootings and nothing to address our daily epidemic of gun violence. He's been one of the NRA's most reliable lapdogs in the Senate, and this year, Texans have a real shot at voting him out and sending a message to his buddies in Congress who put the NRA ahead of their constituents.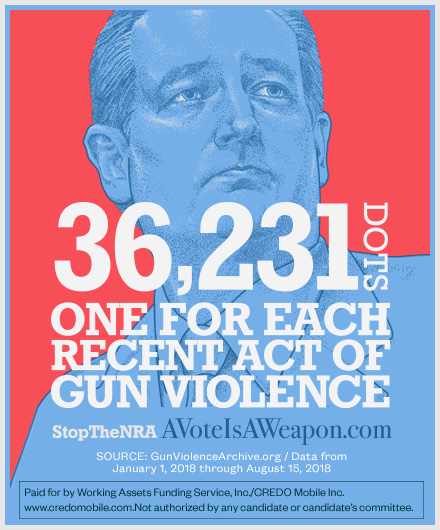 The images are now overlaid with the website URL: AVoteIsAWeapon.com, which helps people to take action against the gun lobby – including voting out Sen. Cruz and those with similar records.
At CREDO, we are using our leverage to provide a platform to stand up to the NRA, one of the most malevolent political forces in the United States today. It coerces lawmakers to vote against gun reform and works zealously to promote the sale of weapons that kill or wound 47 children and teens every day.2 The NRA is even suspected of illegally funneling $30 million in Russian money to the Trump campaign.3
CREDO has not only taken this very public stand in Texas, but we've donated over $3 million to organizations working against gun violence, including Moms Demand Action, Mayors Against Illegal Guns, the Brady Campaign and Amnesty International. After the mass shooting at Stoneman Douglas High School in Parkland, Florida, we intensified our push for gun control and engaged over 400,000 progressive activists via online campaigns calling on Congress to ban assault weapons, urging the Senate to block the Concealed Carry Reciprocity Act, holding investors like Blackrock and Vanguard accountable for profiting off of gun violence, and demanding that corporate sponsors of the NRA break ties with the group.
Let's paint a different picture this November by voting people into office who take gun reform seriously. Americans of all political stripes overwhelmingly support common-sense gun reform. That's why we're reminding voters that they have a weapon even more powerful than the NRA's money: their vote.
Source: Gun Statistics: org / Data from January 1, 2018 through August 15th, 2018.
By Trish Tobin via CREDO
Most companies go into business to make money. Thirty-one years ago, we went into business to make change, offering services like mobile and energy to make it easy for you to make a difference. Since 1985 we've donated over $86 million to progressive nonprofits, and we've built a network of over 5.5 million activists advocating for causes we believe in.