Let me start with an introduction. My name is Henry Marshall, I'm 19 years old, and I just graduated from high school. In many ways, my graduating class, the class of 2018, is like any other. But in a few important aspects, our young lives have been completely different. Our high school years were punctuated by violence, tragedy, and the irresponsibility of our leaders.
I was in the 7th grade when we had our first active shooter drill. I was born two weeks after Columbine. For so many of us, school shootings simply became part of our childhoods. But we never accepted them, they never became easier to cope with, never less haunting.
And then, after the Valentine's Day shooting at Marjory Stoneman Douglas, something snapped for us. And from the moment the Parkland students raised their grieving voices, it was clear that our generation wasn't going to wait another moment to have an impact.
You can feel that as a student — even thousands of miles away — you can feel the passion, the anger, and the grief of your fellow students. I know, because I felt it. I felt it when I watched Emma Gonzalez wipe away tears while she continued to speak, and I felt it when I watched my classmates march across the country. It was with the swell of that feeling — that indescribable mix of outrage and hope — that I knew I had a responsibility to make change. I've been involved in the climate issue for several years, both on the scientific and activism side.
So with the help of my connections at the Alliance for Climate Education, we formed a student leadership team. We brought together student organizers from all over the country: young people who were already at the forefront of the fight for social justice across a range of issues. Our goal was simple; we wanted to make the voice of young people heard and get our generation to the ballot box for the November elections. Many of us had organized walkouts or planned voter registration drives, but we wanted to do more — we wanted to make a splash.
So we launched donate:60, a campaign aiming to use high school graduations as a viral springboard to register new voters, just as they stepped into their lives as adults. How? The concept was simple. We asked valedictorians, class presidents, and anyone else speaking at a high school commencement to consider making a statement on the issues most critical to our generation in lockstep with their classmates across the country. The response was overwhelming. From day one, it was clear that the power of donate:60 came from its unity. We knew that thousands of students raising their voices in unison to talk about the issues that our generation cares most about would be impossible for our leaders to ignore. So the student leadership team set out drafting a uniting pledge — 60 seconds of powerful speech that addressed the issues that mattered most to Generation Z. The idea was to give students a platform by giving them a collective voice. One voice is drowned out in the madness as quickly as it is heard. But the voice of a generation is impossible to ignore.
We conducted research and held focus groups to determine what the core issues were that our generation cared about. In a time of such political animosity, we wanted to create a message that was undeniable—a message about our future, not about politics, about our humanity, not our division. And after weeks of collaboration, this is the pledge that we settled on…
Today, along with thousands of other students across the country, I'm donating the next 60 seconds of this speech to take a pledge for our future. In the next four years, 17 million of us will be eligible to vote. That makes Generation Z this country's largest swing state. Not red, not blue, but human. And together, we have the power to shape the world we want to live in. So, today I'm pledging to vote on three basic human rights: equality across race, gender, and sexual orientation, safety from gun violence, and action on climate change. If you care about the world we're inheriting, I urge you to take the pledge with me. Together, we can create a healthier, safer, brighter America. We're the adults now.
And once we spread the word, the speeches began to pour in. The messages on my social accounts blew up with students eager to get involved.
And what was most heartening for me, both as a student and a citizen, was how eager my classmates were to get involved. I heard from a student from Flagstaff, AZ after her speech saying "thank you so much for getting this available to people giving speeches, I was really struggling to find the way to use my voice during my speech before I found this. It makes me feel like I really was heard today, and that doesn't happen often." And this student wasn't alone in her sentiment, I got countless other notes from students and speakers.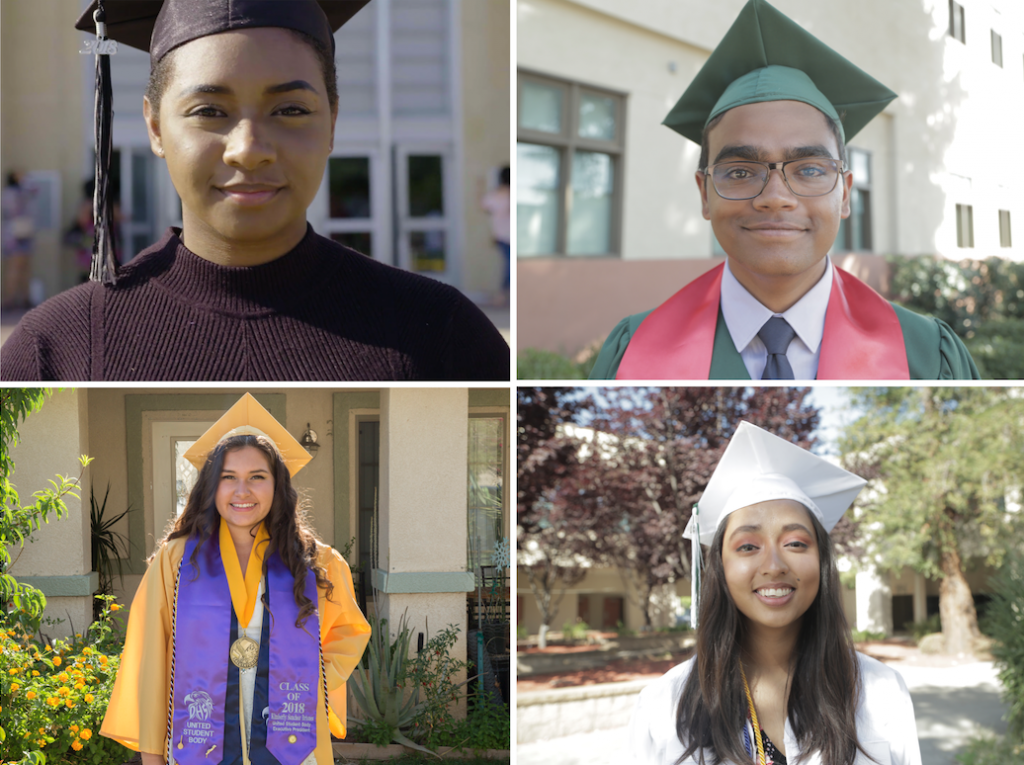 (From left to right top to bottom) Donate:60 speakers London Vallery, Ankush Swarnakar, Kimberley Sanchez Briones, and Lavanya Singh.
"The idea was to give students a platform by giving them a collective voice."
The donate:60 campaign is clear evidence that the same burning sense of responsibility to change our world that I experienced lives within all of Generation Z — we've been raised to take nothing for granted, not even our survival. And this November, we're going to make our voices heard at the poles — the same ones that rang out in Washington in March and at commencement ceremonies nationwide this spring. Because unlike the generations before us, we've been forced to come together. We've been forced to set aside our differences and focus on our collective future.
So this November, the new voting bloc is the class of 2018, and we're going to vote on the issues that matter for our future.
Contributing Editor: Henry Marshall
Henry Marshall is the head student organizer for donate:60: a campaign aiming to raise the collective voice of high school students and get Generation Z to the polls. Henry will start as a freshman at Harvard University in the fall where he plans to study Environmental Sciences, Economics, and Government.
You can learn more about donate:60 at www.donate-60.org or on social media (@donate_60).