Hurricane Irma, one of the biggest storms to ever come out of the Atlantic, churned toward Florida over the weekend, leaving a trail of death and destruction across the Caribbean and prompting officials to direct 6.5 million Florida residents to leave their homes in one of the largest emergency evacuations in American history.
As many Floridians are now returning to their homes to assess the damage, we start to get a real feel of the devastation left behind by Hurricane Irma. The Florida Keys, where the storm had torn at nearly every home, and in Jacksonville, where the extent of flooding "shocked" residents and officials alike, Gov. Rick Scott said. "So many areas that you would never have thought have flooded, have flooded," he said.
At least 48 people have died as a result of the storm, including at least 13 in the continental United States, according to The Associated Press.
Now is the time to pull together as a community and lend a hand to your neighbor. If you are on the outskirts of the damage or far away and want to help, please read below on different, reputable, charities you can donate to. Some charities are looking for financial donations, while others are looking for specific products and others are looking for volunteers. Whatever you can do to help in this time of need would be greatly appreciated. Let's pull together for the good of all mankind. I sincerely thank you from the bottom of my heart.
Hurricane Irma Community Recovery Fund
Currently, over 3 million Floridians live in poverty, and an estimated 850,000 undocumented immigrants across Florida may be fearful of accessing needed government resources due their immigration status. Volunteers, community groups, and grassroots leaders are stepping up to ensure that no neighborhood gets left behind in the devastation of Hurricane Irma.
One America Appeal
Hurricane Harvey brought terrible devastation - but it also brought out the best in humanity. Former Presidents come together and join fellow citizens in supporting Houston and the communities along the Gulf Coast as they rebuild. Every cent donated through the One America Appeal will help the victims recover. Thank you.
UNICEF
Millions of children are at risk. In any emergency, children are often the most vulnerable and need our help to survive. UNICEF is working around the clock from Houston to Yemen - to put children first
You can support UNICEF'S work by Texting "RELIEF" to 864233 to donate $10 to UNICEF USA.
UNICEF's emergency work here in the US and around the world includes:
Hurricane Harvey
Hurricane Irma
Bangladesh/Myanmar
Yemen/Cholera
South Asia Floods
GlobalGiving's Irma Relief Fund
It vets the local organizations it helps fund and is well-regarded by charity watchdogs. (GlobalGiving prioritizes local organizations over the long term, but often steers money toward larger entities like Save the Children or the International Medical Corps during the early days of disaster response.)
Red Cross Irma Relief Fund
The Red Cross depends on financial donations to be able to provide disaster relief immediately. Help people affected by Hurricane Irma by visiting redcross.org, calling 1- 800-RED CROSS or texting the word IRMA to 90999 to make a $10 donation. The Red Cross has mobilized its second massive hurricane response in two weeks to help people affected by Hurricane Irma. Relief efforts stretch from the U.S. Virgin Islands through Florida to the mid-Atlantic region.
The Salvation Army Relief Fund
It takes an army to fight a battle on two fronts. That's why we're on the ground in Houston and ready with more forces in Florida. Our food trucks are mobilized to feed thousands of victims and first responders. Our disaster relief team is setting up shelters for survivors to rest and recover
Meals on Wheels Plus Relief Fund
They are looking for volunteers as well as monetary donations. The Food Bank of Manatee has prepared to provide food and water for distribution to the partners and agencies in Manatee County. If you need food, click here for a list of pantries in Manatee County.
Americares Hurricane Relief Fund
This organization is responding to the urgent needs of people in Hurricane Irma's path. They're also still in Texas, distributing water, aid and mobilizing medical outreach with our local partners.
OXFAM Hurricane Relief Fund
Focused its efforts on the Caribbean islands that were devastated by Irma. They have worked in the Caribbean region for more than 30 years and have expert teams supporting a network of local partners to help those people most vulnerable after an emergency.
Feeding Texas Relief Fund
A network of the state's food banks and a member of Feeding America, Feeding Texas will be stepping in to coordinate with the state and other food relief providers to accelerate food aid. Donate here, or find a list of individual local food banks here.
Save the Children Hurricane Relief Fund
Delivering any aid that Florida's & Houston's families in shelters need and help restore the critical child care and education services that children depend on. They're also establishing Child Friendly Spaces in emergency shelters, areas run by trained staff members where children can safely play, socialize, and begin to recover while parents attend to their family's immediate and longer-term needs.
SBP Harvey Recover Fund
Launched in the wake of Hurricane Katrina, SBP works to reduce the time between natural disaster and recovery. Once Harvey has passed, SBP will send in Americorps volunteers to help rebuild damaged or destroyed homes. You can give here.
SPCA of Texas
Animal shelters like the SPCA are taking in numerous pets displaced by the storm, whether stray, left behind, or in need of temporary housing while their owners stay in evacuation shelters. Give here.
VOLUNTEER: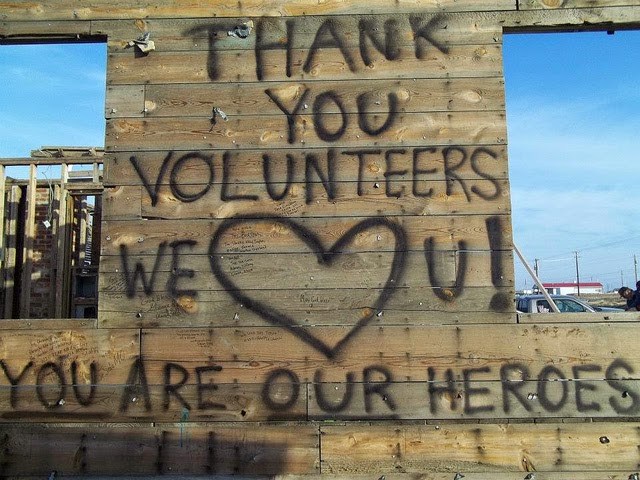 FEMA expects thousands of volunteers to be needed to support mass care activities for evacuation shelters in Florida, and potentially other southeastern states in the path of Hurricane Irma.
Individuals seeking to volunteer in Hurricane Irma's aftermath should not self-deploy, but rather, coordinate with local and state organizations to ensure appropriate volunteer safety, training, and housing. Volunteers acting alone and attempting to enter impacted zones may find themselves turned away by local authorities.
In Florida, the Florida Division of Emergency Management (FEDM) is coordinating with volunteer organizations across the state and partnering with the American Red Cross (ARC) to provide shelter operations training to volunteers and AmeriCorps grantees.
Those interested in volunteering to assist in Florida are encouraged to learn about opportunities at www.volunteerflorida.org, the website of Volunteer Florida, the state's lead agency for volunteerism and national service that administers federal, state, and local funding for service programs. Individuals looking to volunteer at shelters, should complete shelter operations training online and submit a registration
form. Since the damages are unknown as of now, potential volunteers are asked to seek opportunities with charitable organizations that are currently stocking supplies. The website is frequently updated, so please check back for new information.
If you are a nurse and available to volunteer, please email BPRCHDPreparedness@flhealth.gov to volunteer.
Contributing Editor: Alyssa Milano
Alyssa Milano is an Actress, Activist & Philanthropist. She is an UNICEF Ambassador who is trying to make a better future for her, and the worlds, children. Her Twitter Account is @alyssa_milano