Renato Mariotti is quickly becoming a name synonymous with justice and fairness. Renato is someone whose ideas and voice can be seen at various times on CNN and MSNBC almost daily. My belief on why he gets the invites are simple, he is able to take the complexity of law and explain it to the masses in plain English, without dumbing it down. Another reason America is falling in love with him is because of his advocacy for consumer and worker rights. When he is not on television, Renato has proven himself to be a journalistic gem in terms of his Op-Ed pieces.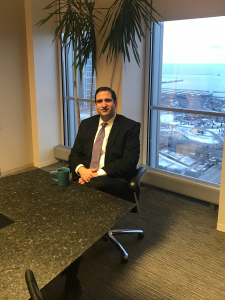 He is quickly proving himself to be one of the leaders in terms of legal voices on social media. With such a legal mind, one might awesome that Renato comes from a family of lawyers. This would be incorrect.
Renato has stated, openly and proudly, that he is from a humble background and that his dad is a cashier at Walmart. Renato is from a working class family in Illinois and graduated from Naperville Central High School in 1994. He earned a B.S in political science from the University of Chicago and a J.D degree from Yale in 2001. After law school, he went on to become a clerk for the U.S. Court of Appeals and practiced antitrust and securities litigation. After doing that for five years, he became a federal prosecutor in Chicago. Renato prosecuted the Bogdanov crime family, "Second Hand Bandit "Jose Banks, and Real Estate tycoon Laurance Freed , to name a few. Following the election of Donald Trump, Renato became the face, the voice, and the legal mind of the Resistance. Renato has also volunteered his time to the Legal Assistance Foundation of Chicago, he co-chairs Lawyers4choice , and he serves on the Board of Directors of the Chicago Lawyer Chapter of the American Constitution Society. Needless to say, I am humbly grateful that with everything he does, he found a moment to take part in my Tea Time Segment.
Right now Many DACA recipients are terrified .What advice do you have for them?
DACA recipients have every right to be concerned. They trusted the government and turned over information about themselves that could make it easier for the government to deport them, and now Donald Trump has taken away the status they were promised. DACA recipients should know that the fight is far from over. State attorneys general are litigating whether Trump's decision to end DACA was lawful, and many members of Congress still want to pass a Dream Act. But DACA recipients should take all prudent steps necessary to obtain lawful status, if possible, and should seek advice from attorneys to protect their rights as much as possible. I believe that if Trump attempts to deport DACA recipients using information that the recipients provided, they have a viable due process challenge.
Do you think we will see an increase in immigration attorneys?
We have already seen increased demand for immigration attorneys, and thankfully many attorneys are stepping up to help on a pro bono basis.
Along with the anti -immigrant propaganda we are also seeing right wing propaganda in our media from the Sinclair Group. What are your thoughts on how easily the propaganda is being distributed?
Sinclair is using its ownership of many local TV affiliates to spread right-wing propaganda through local anchors who have built up a reputation for decades. Now they are planning to take over Tribune Media, which owns over 40 more local TV stations, and the Trump Administration is changing the rules to let them do it. We can't let Sinclair control an even bigger share of the nation's local TV stations. In some parts of the country, there aren't many different local broadcast TV stations to choose from.
Do you think the Mueller investigation will lead to a changing of the guards in the White House?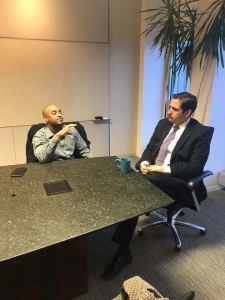 I'm skeptical that the Mueller investigation will result in the end of Trump's presidency before the next election. I believe that Mueller will ultimately present reports to Congress rather than indicting Trump himself, and it's unlikely that 67 Senators will vote to convict Trump given that the Republicans control 52 Senate seats. That could change after the midterms, but I doubt that 67 votes to convict would be in reach even after the midterms.
Speaking of the White House, do you believe that the arbitration agreement between Donald Trump and Stormy Daniels is legally binding?
Based upon recent statements by Trump and his former lawyer Michael Cohen, Trump was not aware of the agreement until long after Daniels received payment from Cohen. In the agreement, Trump supposedly released Daniels from claims and made a number of other representations. If Trump was not aware of the agreement, he could not have released Daniels from claims or made any representations to her. Accordingly, the representations in the agreement that Trump released her from claims and made other agreements were fraudulent, and Daniels could not have relied on them. For that reason, it does not appear that the agreement will hold up.
As a former federal prosecutor, when you look at our current federal laws on Marijuana, do you think it adversely targets people of color and why?
Marijuana laws have had a disparate impact on people of color, resulting in an incarceration epidemic that has decimated minority communities. In my home state of Illinois, our prisons are at over 130 percent capacity. We need to legalize marijuana and we also need sentencing reform so we can reduce sentences for minor drug offenses.
What are your thoughts on extending statues of limitations regarding sexual assault, in the wake of the #METOO movement?
One of the many lessons of the #MeToo movement is that abusers often go through great lengths to silence women, and that often abusers have positions of power over the women they victimize. For years, there has also been a stigma that has made it difficult for victims to come forward. For those reasons, every state should consider extending the statute of limitations for sexual assault.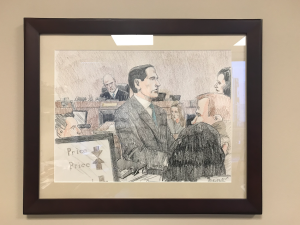 Legally, do you foresee a middle ground on gun issues in America where all sides compromise?
I think compromise is essential on the issue of guns. We need to enact common sense gun laws that provide needed reform but will be upheld by the Supreme Court. We also shouldn't forget that gun laws are only part of the issue. We need to do a better job tackling the root causes of gun violence, such as poverty and a lack of educational opportunity.
We have discussed previously stronger legal protections for the chronically ill and the sick in general. Do you see those legal protections improving over the course of the next decade?
Our health care system needs systematic reform, and our only hope to get it is to take back Congress and the Presidency. I don't think that we'll get the changes we need without legislation passed by a Democratic Congress.
Final Question: when are you getting your own show? I, along with your very large following are requesting this?
I'm open to the idea, but I have not been fortunate enough to have that opportunity! I'm in the very initial stages of creating a podcast, so that is one of the next steps for me.
Contributing Editor: KEN MEJIA-BEAL
@CULPEPPERTHECAT
Ken Mejia-Beal is a concerned citizen, who cares deeply for his country. Ken wants to make the world a better place for all people. A capitalist with a heart who believes in free thinking and human rights. Ken wants to use his words in order to shine a light on political ventures in order to allow those without knowledge to form strong positions through fact based conversation. Ken resides in DuPage County, within Illinois. He has ambitions to motivate those around him to communicate differing ideas while remaining civil.