In District 6 of Illinois, there is much buzz about a man that can change the face of the district. This man is named Sean Casten. Sean earned a B.A in Molecular Biology and Biochemistry from Middlebury College. He went on to work for two years as a scientist at the Tufts School of Medicine in a lab investigating dietary impacts on colon and breast cancer. In 1998, he earned a Masters of Engineering Management and M.S in Biochemical Engineering from the Thayer School of Engineering at Dartmouth. He worked as a consultant in the energy practice if Arthur D. Little. In 2000 Sean became the president and CEO of Turbosteam Corporation. Turbosteam Corporation was a manufacturer of custom – built heat and power plants used to, at the very least, double the fuel efficiency of the U.S electric grid. In 2007, Sean moved to Illinois to co-found Recycled Energy Development, LLC. The company was founded with a mission to profitably reduce greenhouse gas emissions through the recovery of wasted energy. This is Sean's impressive resume. Many successes here, but why is this candidate garnering nationwide attention.
The attention in part, is brought because of the current congressional representative in this district, Peter Roskam. Representative Roskam has not had a town hall with his constituents and has gone on the record by saying his experience with them has been "miserable". He refused the Town hall involving students to discuss their concerns about sensible gun legislation. Sean Casten, however was there and spoke to the crowd of over 600. When asked during a debate to list his biggest failure, did he list his lack of reaching out to his constituents as one? No. Did he list the fact that he votes with Trump and votes against his constituents a large percentage of the time? No. He listed his wife having a miscarriage as his biggest failure. I will give you a moment to re-read that last sentence and let it soak in.
I met Sean last year, before his primary win, at a meet and greet. Sean spoke with every single person in attendance. When he made his way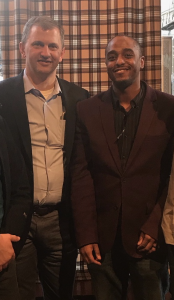 over to me, the journalist in me had many questions. He invited me for a sit down at his office. I spoke with Sean for over an hour two days later. He didn't know that I was a writer, a public speaker, or an activist, all he knew is that I was a voter in his district that was concerned about the direction it was headed. Sean is a people's candidate and it comes across in every public and private conversation with him. He intends to be a voice for all of his constituents. To sit down with Mr.
Casten, is a huge honor.
Why are you running for Congress?
I've dedicated my life and career to fighting climate change, first as a biochemical engineer developing biofuels technology, then as an entrepreneur building and running companies that profitably reduced greenhouse gas emissions by making industrial facilities more energy efficient. Along the way, I came to appreciate that while there are no thermodynamic or economic barriers to growing the economy and improving the environment, there are a lot of policy barriers. That led me to lead two different clean energy advocacy organizations. After selling our company in 2016, I decided to seek public office where I can more effectively work to remove the primary barriers to our ability to leave a better planet to our children than the one we inherited from our parents.
Would you vote yes on spending bills that add to the deficit?
Yes, in certain circumstances. I think the idea that you should never add to the deficit is woefully naive. Keynes was right to note nearly a century ago that government spending should be counter-cyclical with the economic cycle, spending to prime the pump when the private sector is in a slump and saving for a rainy day to damp down inflationary pressures when the economy is expanding. While this is at odds with current Republican fiscal policy, it is the right way to run an economy and necessarily means adding to the deficit during downturns. Also - and perhaps more substantively - I find that our economic conversations are severely constrained by not having a national balance sheet. Spending money to invest in assets that will grow our economy may (wisely and appropriately - think of roads, bridges, trains, and other infrastructure) create short-term deficits, in the same way that someone who buys a home may borrow money beyond their means. But if the asset is growing at a faster rate than the cost of borrowing, this is good public policy.
In your opinion, will tax reform create enough economic activity to offset its cost ?
If by tax reform you mean the Republican tax cut and jobs act, absolutely not. It is not clear that it is creating ANY economic activity of note - most of the gains are being paid out to corporate shareholders, 35% of whom are foreigners. This means that even at the most basic level, there is more money flowing out of the US economy from the tax bill than there is flowing to the middle class. We are witnessing, in real-time the "giant sucking sound" that Ross Perot once used to describe NAFTA, only this time it is actually, demonstrably happening.
Should the US rejoin the Paris agreement?
Yes.
With a career in climate studies, do you believe that the damage done to our environment can be undone?
First, to be clear, I am not a climate scientist. I'm a biochemist and biochemical engineer who has enough scientific training to know good from bad science, but don't claim to be an expert in the field. But I am concerned. It is a chronic and well-documented failure of the human brain that we tend to see all trends as linear, even though most natural cycles are non-linear. Ask someone the next number in a series: 2, 4, __ and they will likely say 6 (the linear) rather than 8 (the geometric). We are right now witnessing a significant number of environmental changes that are negative, and geometric. The melting of polar ice caps reduces the amount of sunlight reflected into space as white (reflective) snow is replaced with black (absorbing) earth, thereby accelerating warming. The melting of permafrost is leading to "burps" of methane that have been frozen for millennia, releasing a gas that is 30-times more potent than CO2 as a greenhouse gas, further accelerating warming. Privately, many climate scientists have described permafrost melt as the "game over" scenario.
So realistically, we are past the point of no-return. Major changes have happened that cannot be undone. Even if we were to slash CO2 tomorrow back to pre-industrial levels, we still would have lost massive amounts of coral reef to ocean acidification and disrupted numerous other eco-systems.
But that doesn't mean we shouldn't work to do what we can. Even if our planet can't provide a US standard of living for the 10 billion people who are soon going to be living on it, we can at least make sure that it provides an acceptable standard for most. And every step we take to lower CO2 emissions helps ensure that future.
What is the best indication that our environment is recovering?
From climate change? None. It's getting worse by the day. On other measures though, legislation has been extremely successful at reversing what were previously considered to be intractable problems. The advent of the automobile was widely heralded at the time as an environmental advance because it cleaned up cities that were previously covered in urine and manure, and were vectors for cholera and numerous other diseases. The Clean Air Act and Clean Water Act have massively cleaned the air and water for non-CO2 pollutants - witness the fact that you can now see Pittsburgh and Chicago from 30 miles away, or the reduction in haze in Denver and L.A. The Montreal protocol (an early model for international cooperation) made a significant difference in lowering chloroflourocarbon emissions, helping to close the "ozone hole" and ensuring that our atmosphere still provides protection from harmful UV rays. So we know how to take meaningful action to protect the climate. We just haven't done it yet for greenhouse gases.
What is the best indication that our economic health is failing or succeeding?
With widening wealth inequality, I'm not sure that our traditional measures of economic health are sufficient. They certainly don't paint a holistic story. Unemployment is down, but the hollowing out of middle skilled jobs has caused many to shift down into under-employment. This, coupled with the revolutions in communications and logistics (aka, globalization) explains why we have stagnant wage growth in spite of "tight" employment markets. The stock market is booming but the gains accrue to a tiny slice of the population. Average per capita wealth continues to rise, but taking comfort in this is akin to taking comfort in the fact that Hank Aaron and I averaged 357 home runs.
That said, I think we can take comfort in rising global standards of living. We are steadily reducing the number of people living in poverty. We are making progress towards many of the so-called "Millenium challenges". And many of the gains that we take for granted (from information-at-our-fingertips to music-on-demand to any number of other recent advances) have meaningfully improved the average person's quality of life, even if they haven't created net wealth.
Should the US move closer to single payer health care?
We should absolutely adopt universal health care. And we should do it for reasons that are simultaneously selfish and deeply moral. Moral because every country that has universal health care delivers better health outcomes than the United States. Selfish because every country that has universal health care has lower health care spending per capita than the United States.
However, the case for single payer (as a subset of universal healthcare) is not as strong. There are many countries that have multiple payers within a universal health care system (Switzerland and Germany most notably) and there are also countries that have single payers within a universal health care system (the British, most notably). In general, the single payer systems are cheaper but do not deliver as high quality outcomes. This makes intuitive sense: if you give people choices to pick a provider that best suits their needs (while still ensuring that all have coverage) you are likely to get better outcomes than if you stipulate a single provider for all. So while I favor universal healthcare, and while I favor giving everyone the option to buy into a public system (like Medicare) I do not think it is good policy to mandate a single provider for all.
What are your thoughts on NAFTA? Does it help or hurt the US?
Trade policy must do two things. One, it should provide Americans with access to the highest quality, lowest cost goods and services so long as the providers of those services meet or exceed US labor, employment and trade practices. Two, it should serve as an arm of our foreign policy, giving all countries an economic interest in the continued strength of the United States economy. Those two goals are sometimes in conflict, and any trade deal should strike a balance between the two. NAFTA, in my experience struck that balance pretty well. Mexico's laws largely came into compliance with US practice and made us all wealthier in real terms. The TPP, by contrast tipped too far towards the second goal and didn't provide enough protection to US businesses from lax Chinese IP law. But there is no perfect trade policy - just a need to balance those different pressures.
What is your thought on 3D guns?
They are a terrible idea. Just because you can build something doesn't mean you should be able to. This is no less true for mixing fertilizer to make explosives than it is to printing a 3D gun.
Should transgendered troops be allowed in the military?
Yes. One's gender or gender identity has nothing to do with one's effectiveness as a soldier. The US military has long been at the forefront of equality, placing people of color and women in leadership positions not available in the private sector. It is one of the better examples in our country of a truly meritocratic organization and should continue to be so.
Should there be a citizenship question on the census?
No. The purpose of the census is to provide us with accurate information about the country and its inhabitants. Any question that reduces people's willingness to respond or honestly answer the question creates data integrity problems that make it harder for us to make informed policy decisions.
Is it fair to trade the border wall for protected status for DACA RECIPIENTS?
This is a false choice. DACA was the law of the land, passed by President Obama. President Trump's repeal of his executive order should be seen for what it is - a hostage taking, with the ransom being his wall. You don't negotiate effectively with a hostage taker by agreeing to their ransom and I wish the political media wouldn't frame the debate this way. We have a moral obligation to the Dreamers and the border wall is a stupid idea that does not solve any real problem. Both of those things are true and therefore there is no logical reason to trade one for the other. (Note that this is not to say that we shouldn't screen who comes into our country, but rather that when the majority of undocumented immigrants in the United States are visa overstays rather than border crossings, the wall is not solving an actual problem. It is just a massive, expensive and unnecessary construction project. Like a Trump casino.)
You are a supporter of the arts. Would you vote to increase art visibility in public schools?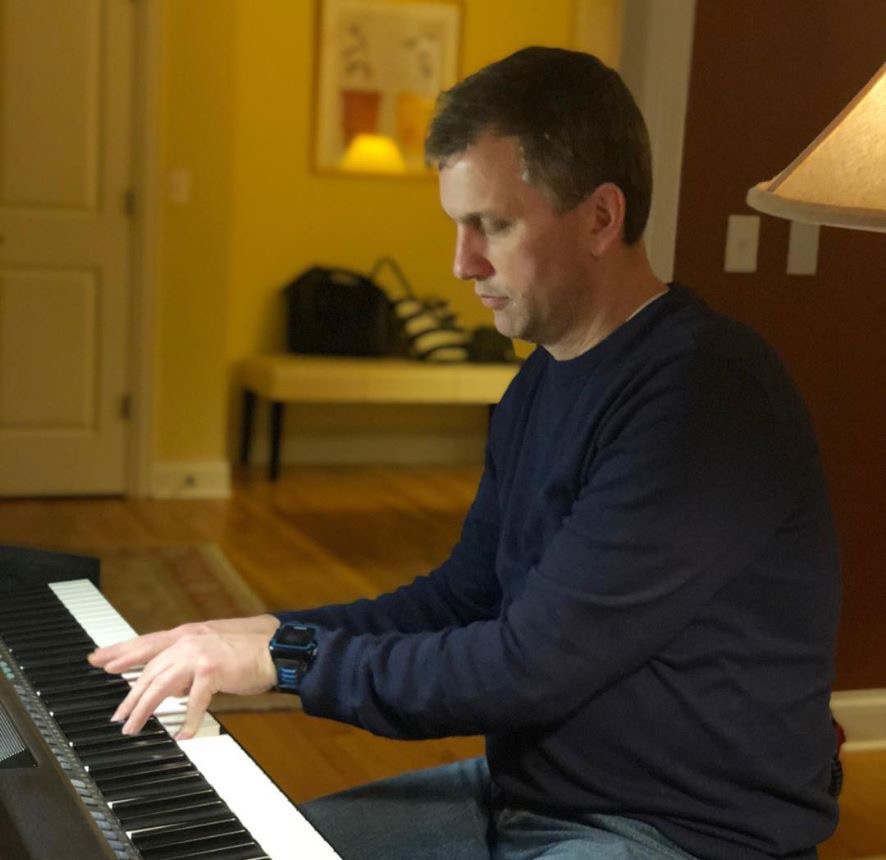 I am absolutely a supporter of the arts. As a piano player who is just good enough to enjoy sitting down and working through whatever emotion I'm feeling by playing around at home, I'm an absolute believer in the value of making sure that all have exposure to arts education. More generally, I think the obligation of a parent, or a school is to provide exposure to as many different tools and experiences as possible. The more options you have, the more opportunities you can avail yourself of later in life. As to your specific question, I'm not sure how to answer without context. Art is good, but what does it mean to "increase art visibility"? Specifically, what do you have in mind that is federally jurisdictional? It strikes me in general that one of the few good things one can say about Betsy DeVos is that most of the decisions about curriculum and funding in public school are made at the state and local level, limiting the amount of damage she can do. The flip side of that is also true though - the best things that can be done to improve our educational system are often below that which I would have jurisdiction over as a sitting US Congressman.
15 . Last Question : For the rest of your life, one song plays everytime you enter and leave a room . What is that song and why ?
Bruce Springsteen, Thunder Road. Because it's a beautiful song. Because the lyrics have that wonderful Springsteen honesty about America, about a guy who knows that he's not got much to offer beyond what's "beneath this dirty hood" but still dreams of being a heroic, larger than life person who will "pull out of here to win". Because it's an honest song about love and all of its aspirations and shabbiness ("you ain't a beauty, but hey you're alright"). And most of all because for many years, it was the lullaby I sang to my daughter every night. And if I didn't, she'd come in and remind me to "come sing the screen door song before you go to bed".
It was truly a pleasure to have these questions answered very honestly and insightfully by Sean Casten. If you have a moment visit his website and since he will not be getting millions from the Koch Brothers , he needs folks like you to give a dollar here or there.
Contributing Editor: KEN MEJIA-BEAL
@CULPEPPERTHECAT
Ken Mejia-Beal is a concerned citizen, who cares deeply for his country. Ken wants to make the world a better place for all people. A capitalist with a heart who believes in free thinking and human rights. Ken wants to use his words in order to shine a light on political ventures in order to allow those without knowledge to form strong positions through fact based conversation. Ken resides in DuPage County, within Illinois. He has ambitions to motivate those around him to communicate differing ideas while remaining civil.