One of Donald Trump's favorite refrains is "Fake News." While I don't generally agree with the President on anything, and certainly not on the way he applies the term, it's true that there is fake news out there, that certain media outlets will start with actual news and subvert it to make a political point, and that doing so damages people. This week provided a prime example.
When Natalie Weaver tweeted photo of her daughter Sophia, she did it with the most noble of intentions: advocate for better healthcare and legal protections for people with disabilities. Sophia suffers from Rett Syndrome and other ailments, and her family's story has inspired many to act on the behalf of the disabled.
Unfortunately, Twitter has no shortage of "trolls," (for our purposes, let's call them "assholes"), who scour the internet from their lonely basements, looking for ways to hurt people. When one of these assholes, Twitter user @OBSIDIANSMOAK, came across Sophia's photo and story, it took the opportunity to steal and share this photo to advocate for forced amniocentesis and eugenics – the policy the Nazis firmly espoused to "improve" the genetic quality of the population. In short, he advocated aborting fetuses with genetic abnormalities, and sent months of attacks at Weaver to this end.
Twitter's hateful conduct policy reads, "You may not promote violence against, threaten, or harass other people on the basis of race, ethnicity, national origin, sexual orientation, gender, gender identity, religious affiliation, age, disability, or serious disease." However, when reporting a tweet for violating this policy, one may only report for "hateful conduct against a race, religion, gender, or orientation." Months of reporting these harassing tweets received responses from Twitter that the asshole @OBSIDIANSMOAK did not violate the hateful conduct policy, and the tweets were allowed to remain. @OBSIDIANSMOAK then used these emails from twitter to further harass Weaver and her family.
This week, it finally went farther than Weaver was willing to bear. She sent a tweet asking for help in reporting @OBDSIDIANSMOAK, and thousands of Twitter users did just that. A reporter from Fox News picked reached out, and a story ran on Monday of this week: the 45th anniversary of the Roe v. Wade decision. While the article accurately depicted the story, the headline tied it into the abortion debate. Weaver, who is pro-choice, objected to the characterization but was grateful for the attention it drew.
Soon, thousands more people from across the political spectrum joined in against @OBSIDIANSMOAK. It seemed a rare moment at first: unity between Left and Right in today's charged political climate. Twitter, after this intervention, suspended the account of @OBSIDIANSMOAK. Soon, though, media stories about the situation began to change the narrative..
"This was never about abortion," Weaver told PatriotNOTPartisan. "I had two goals: stop @OBSIDIANSMOAK from using Sophia's image, and get Twitter to clearly include hateful conduct against the disabled in its anti-harassment policies." Instead, media outlets like Daily Wire, LifeNews.com and Fox News have used her story as an anti-abortion piece, identifying @OBSIDIANSMOAK as a left-wing abortion proponent.
I have seen the asshole @OBSIDIANSMOAK's Twitter stream. It was full of attacks on Hillary Clinton, feminists, Rosie O'Donnell, and other liberals. The asshole was no liberal. It was an asshole.
And this is what these media outlets have done: it has taken the story of a family fighting for the rights of a medically fragile child to live free from harassment online and turned it into a story attacking abortion rights. In doing so, they have stolen and used Sophia's image and story for political gain-just like the asshole @OBSIDIANSMOAK did.
There is fake news out there. And this is how it is born.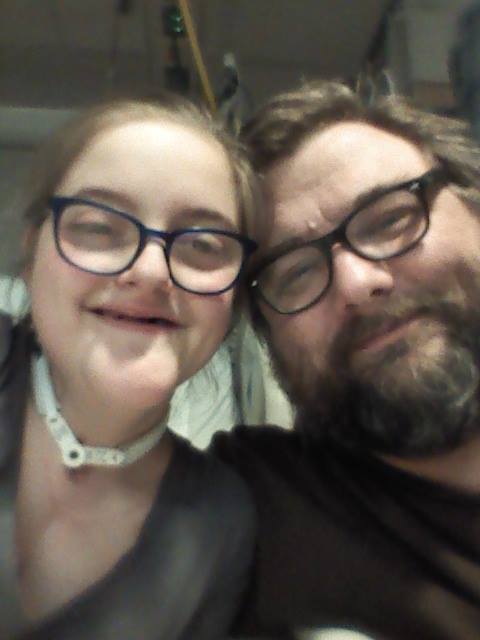 Contributing Editor: Ben Jackson
Ben Jackson is a writer and father of a chronically ill teenager who somehow still likes him. His non-fiction and opinion pieces have appeared in Patch Media, WBUR's Cognoscenti, and the Penmen Review. His fiction and poetry has been published in New Millennium Writings, The Legendary, 50 Word Stories, and anywhere else he can con an editor into buying his work. He lives in Natick, Massachusetts with his daughter.